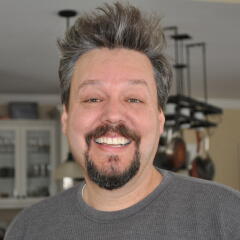 Glenn and Kyla founded My Dog Tess in July of 2002.
Glenn's career covers over twenty-five years as an accountant and financial analyst with private and public sector companies. Glenn received a Masters Degree in Accounting and a Bachelors of Science in Business Administration from the University of North Carolina at Chapel Hill.
Prior to founding My Dog Tess, Kyla taught elementary school and was a production assistant with Figure Eight Films in Chapel Hill. Kyla has a Bachelor's degree in Television and Motion Picture Production from Loyola Marymount University and an Education degree from UNC Wilmington.
Glenn and Kyla live in Hillsborough with 3 children, 2 dogs, 2 cats, 8 chickens, 2 doves, 1 lizard, and 1 possum (when he can't be forced out of the garage).
Cities Served:
Chapel Hill / Durham / Hillsborough / Pittsboro