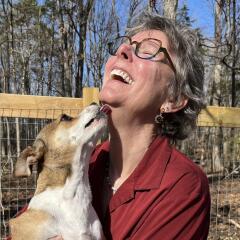 Tara brings more than just her love of animals to her work as a realtor.
She has lived in the Triangle 30+ years. She is a physician and originally came to Chapel Hill for training. Afterward, she moved to Raleigh to start a private practice. Ten years later, she moved back to Chapel Hill and then, most recently, to Hillsborough.
In 2016, Tara went back to school at the UNC School of Information and Library Science. She holds a Master of Science in Library Science degree and is an expert at organizing and managing information.
Tara is a people person and enjoys the time she spends with her clients. Her work with her patients has given her keen intuition when it comes to negotiating. And her information management skills ensure that all options will be explored. She collaborates with the other realtors at the My Dog Tess to provide her clients with the benefits of their breadth of knowledge. She believes that building connections with the community is vital to making real estate brokering work for everyone.
Tara's goal as a realtor is to create smooth experiences for her clients. From listing a property or making an offer, to negotiating contracts, and closing, she is confident that her clients make the best deals possible.
Cities Served:
Chapel Hill / Durham / Hillsborough / Pittsboro